After Shiny Sandshrew debuted on Pokémon GO in Japan earlier this month, the app released the Shiny Pokémon globally. Plus, Pokémon GO is gradually increasing the variety Shiny Pokémon overall.
Tottori Festival 2018 Event is Here!
According to Serebii, Shiny Sandshrew was introduced to Pokémon GO at the beginning of the month during a brand-new event in Japan. The Shiny Sandshrew was a part of the mobile game's exclusive promotion in Japan, and although the rest of the globe was undoubtedly pleased about this, we were also envious that we couldn't find our own Shiny desert Pokémon. Happily, the Shiny Sandshrew Pokémon GO release last week after the Totorri Sand Dunes celebration concluded in Japan on December 19 means that the rest of the globe no longer has to feel envious.
In addition to Shiny Sandshrew's permanent inclusion, the app is getting ready to roll out other Shiny Pokémon for users to catch. Almost a hundred Shiny Pokémon are currently available in Pokémon GO. iMore claims that only last month, the app added hundreds of new Shiny Pokémon to its expanding collection.
Pokémon GO has introduced a few dozen additional Shiny Pokémon to its catchable pool in addition to the chartreuse Sandshrew. Up through January 2, 2018, there will be a Winter Holidays 2018 event. The glittering enhancements to the Pokémon GO environment don't stop with Shiny Sandshrew. They also include an increased number of ice type Pokémon and decreased egg hatching distances.
SANDSHREW FESTIVAL OFFICIALLY ANNOUNCED IN TOTTORI PREFECTURE
SANDSHREW FESTIVAL OFFICIALLY ANNOUNCED IN TOTTORI PREFECTURE
The first information on the Sandshrew Festival campaign, which will take place in Tottori from December 6 to January 14, 2019 has been officially released by the Pokemon Company and the Tottori prefecture in Japan.
Visitors and residents of Tottori will discover Sandshrew and Alolan Sandshrew appearing everywhere throughout the month-long promotion, from neighborhood shops to the streets.
Here are the activities that are taking place in Tottori:
Mascot Appearance
In Tottori, the Sandshrew and Alolan Sandshrew mascots will be present for meet-and-greet events. The first will happen today, December 6, from 1:30 to 2 p.m. at Sand Coffee, while the second will be on December 7, from 2 to 2:30 p.m. at Mizuki Shigeru Museum.
Stamp Rally
Tottori will host a stamp rally during the election season. By visiting tourist destinations and collecting the stamps, you may be eligible to win an unique reward.
Reward A: Two winners will get Mortar Magic's Sandshrew Sand Statue Figurines (5 stamps required)
50 victors will get the prize B, a three-letter Sandshrew set from Inabi Washi Cooperative Industries (2 stamps required)
Haiku Photo Contest
Use the hashtag #sandoidetottori when posting a Pokemon GO AR photo from Tottori that features nearby Pokemon or the stunning surroundings. If everything works out really well, you could even get a reward!
Grand Prize: Mortar Magic's Alolan Sandshrew Sand Figurine and a 10,000 yen gift card (1 winner per category)
Runners-up: Inabi Washi Cooperative Industry's 3-Time Sandshrew Letter Set (10 winners per category)
Sandshrew Sand Sculpture
Throughout the campaign, be sure to check out the sand sculpture of Sandshrew and Alolan Sandshrew in front of the museum next to the Tottori sand dunes.
Special Merchandise
Businesses in Tottori will sell unique and exclusive Sandshrew items.
Sandshrew swarms Tottori in Pokemon GO
At Tottori, interactions with sandshrews and alolan sandshrews will significantly increase from December 6 to December 19.
Sunaba Coffee changes its name to Sandshrew Coffee
Sando Coffee has replaced Sunaba Coffee (sand coffee) as the company's name throughout the campaign (Sandshrew Coffee). All Tottori Sandshrew Coffee outlets include décor and artwork by Sandshrew.
In addition, special Sandshrew Coffee menu items and merchandise will be offered at all locations in Tottori:
What do you think? Let us know in the comments below!
UPDATE: End date amended for the Pokemon GO activity, thanks to Joe Merrick for pointing out the mistake.
Trainers! The Tottori Prefecture is collaborating with The Pokémon Company to conduct a Pokémon event at the Tottori Sand Dunes (Japan) for the second consecutive year. The Sand Dunes location seems to be off-limits to playing Pokémon Go in order to spread awareness about the actual animals that live there without harming the dune system.
The celebration began today, December 6, and it will continue until December 19!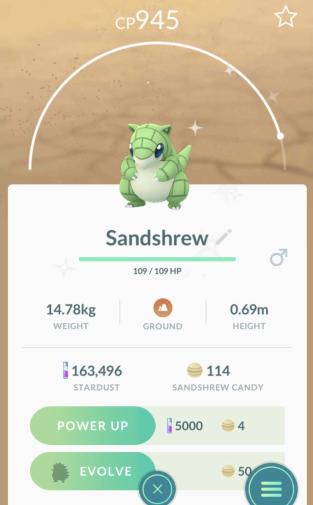 This year, Niantic decided to join in and introduced a featured Pokémon for the event, Sandshrew, ambassador to the area, on top of a ton of merchandise and amenities from The Pokémon Company! Given that Sandshrew is a Ground type and that the desert would be its natural home, it's a rather intriguing option. Also, it looks that this occasion will mark the debut of the Alolan Sandshrew in the wild!
We can now confirm, after many reports, that Shiny Sandshrew have just recently begun to arrive in Japan. There haven't been any reports of Shiny Sandshrew outside of Japan as of the time this article was published. It is uncertain when it will be made accessible to the rest of the globe or if Ponyta and Cubone-style treatment will be given to it during the Ingress Prime event. such as increased chances of meeting a Shiny Pokémon, enhanced spawn rates, etc.
It does, however, seem to be following the pattern of prior events (with an exclusive shiny premiere) before being made available to everyone at a later time during the event. Will Sandshrew be treated similarly? Of course, we hope so! If we were to speculate, we'd aim for a global rollout to start on Friday, but that's just a guess!
Being connected with projects like these by Niantic is always a joy! Let's hope they keep going in this direction!
Link to the event website here!